Hard Drive
Seta Whitby's ambition to do something with her life after high school led her on a journey from Lebanon to La Verne, where she has become a respected and beloved computer science professor.
October 23, 2017
Seta Whitby '84, '87, '03 yearned for college and new life experiences after she graduated high school, but there was a problem: the Lebanese Civil War stood in her way. Attending a university in Beirut meant risking her life crossing the city.
For three years, she deferred her dreams of education and hunkered down with her family to endure the chaos.
"My parents' main goal was to do the utmost to keep us safe," she said.
But Whitby, who is now a highly-respected professor of computer science and computer engineering at the University of La Verne, could sit still for only so long. She had to do something to get out.
Her brother and a small group of friends had enrolled at what was then the American Armenian International College at the University of La Verne in 1979. Whitby, who was born in Syria but raised in Lebanon with her Armenian family, would soon follow them to the United States.
When she arrived, she had no scholarships or financial aid. Her brother worked to cover their tuition.
Whitby initially considered pursuing nursing. But she reconsidered after testing her own blood in a biology class.
"As soon as I saw the blood, I got woozy," she said. "The teacher said, 'Maybe this isn't for you.'"
Then she found her calling in computers.
"It was so logical and so fascinating," she said.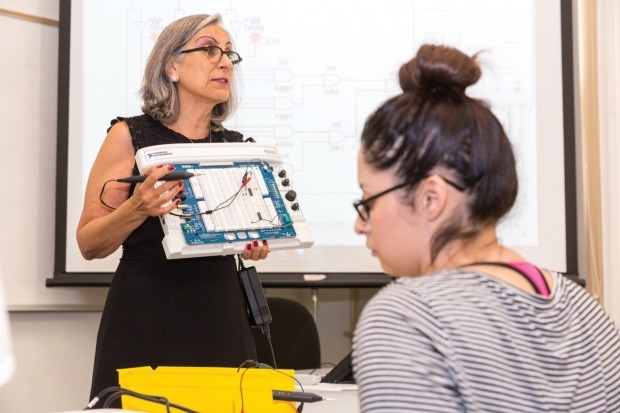 In the early 1980s, there were no laptops, no networks, and no Internet. Students had to sign up for a half hour on a DEC mainframe computer, often at 2 or 3 a.m.
Whitby graduated in 1984 with a computer science degree. Two master's degrees followed, one in computer education and the second in information science. She later received a Doctor of Education in Organizational Leadership. Whitby was looking for a job when a faculty mentor left and she was asked to fill his spot.
In the ensuing years, Whitby's influence on computer science and STEM education has become the stuff of legend. She presents her research at conferences around the globe, and is currently organizing an international interdisciplinary conference called InSITE 2018 at the University of La Verne.
In 2002, she introduced a major in e-commerce and she is now building an online degree program in information technology, creating new opportunities for the next generation of students at the University of La Verne.
"I love my job," she said. "The mission of La Verne is really embedded in me."