Current Issue:
Fall 2018
Join the University of La Verne as we explore the value in adapting a healthy and happy lifestyle inspired by our students, faculty and alumni. Our campus is on a mission to help others living locally and abroad use the tools for a healthy change.
When John Raffoul, DPA '02, took over Adventist Health White Memorial medical center, it was struggling. Under his guidance, the hospital has emerged into a community and industry leader.
Gladys Namuyonga fled persecution in Uganda for the United States. The University of La Verne College of Law helped her win asylum.
News from La Verne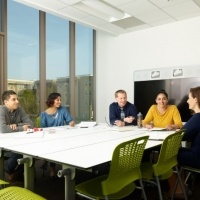 The University of La Verne's Clinical Psychology Doctoral Program (Psy.D) has received a 10-year reaccreditation by the Commission on Accreditation of the American Psychological Association (APA).
December 11, 2018