Robert Ruiz '05, '08 was in Cambridge, England to make a case about Israeli West Bank security issues. His argument was sound. His facts were undeniable. There was only one problem: he was lost.
Ruiz and his friends on the University of La Verne Debate Team were so focused on the task at hand they had become turned around on their way to the 2003 Cambridge Universities Debating Championships. Ten minutes later, embarrassed and anxious, they arrived to face down some of the strongest competition in the world – the men and women of Middle Temple, Oxford, and the London School of Economics. David, meet Goliaths.
"I felt as if I didn't belong," Ruiz said.
But he overcame his nerves, presented his evidence with a calm and cool befitting a seasoned debater, and helped his team to triumph. Of the four teams in the tournament, only Middle Temple could be more persuasive. (Middle Temple went on to win the World Universities Debating Championships later that year.)
"Middle Temple was impressed with how much we knew until they found out we were from the University of La Verne," Ruiz said. "Our reputation preceded us."
In the arena of college debate, few U.S. teams are as well-regarded as the University of La Verne's. With numerous championships under its belt and consistent rankings in national and world competitions, it is seen as one of the university's preeminent points of pride.
After earning a bachelor's in political science and a master's in education at the university, Ruiz returned in 2011 to teach in the College of Arts and Sciences. He quickly took up the position of debate team adviser and has worked since with students to improve their skills and promote the university.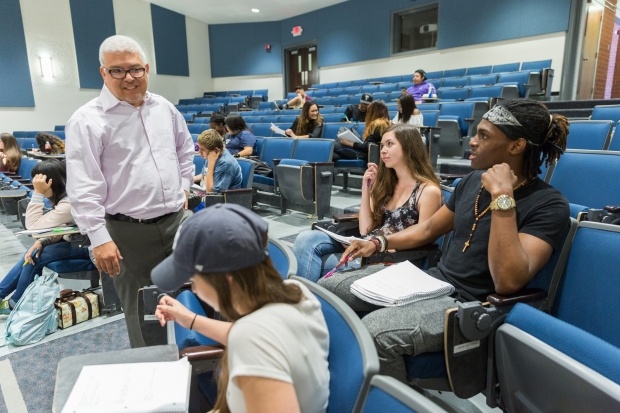 In March, Ruiz welcomed the Pan American Universities Debating Championships, a bilingual tournament with representatives from North, South, and Central America and the Caribbean competing for top honors.
"Because La Verne is a Hispanic-Serving Institution, it's significant because there are two divisions – English and Spanish," Ruiz said. "The topics are the same and the teams interact together throughout the tournament."
La Verne debaters Kandin Maraquin and Tanner Long, both seniors, took out Yale in the semifinals to earn a finals spot in the English language division.
Ultimately, more than 75 colleges and universities came to La Verne to hone their debate skills and foster community with peoples from across the western hemisphere.
"The positive and comforting feedback we received from the participants was overwhelming," Ruiz said. "It reminds me why the University of La Verne works hard to host such prestigious tournaments."
Ruiz adores his students and is quick to recognize the impact his teams have on him.
"They have influenced me in the greatest ways," he said. "They keep me young, they keep me on my toes, and they keep me wanting to know more. I love each group I coach and it's rough seeing them graduate."
Ruiz is especially proud of his recruitment policy.
Rather than offer scholarships or graduate positions to potential students, he draws on current students with a passion for debate.
"I refuse to bring in 'ringers,'" he said. "We find individuals with a story to be told, from a background that is unique, who don't know they have the potential to beat Yale or Harvard. All they have to do is bring their narrative and a desire to change the world."
Ruiz is working on his dissertation – the role of women and leadership in debate – and he is also eager to bring new voices into the fold. They just have to be prepared to make their case.