The Business of Heavy Metal
Raw talent is not always enough to survive in rock and roll. That is why Seann Nicols '16 is pursuing a Master of Business Administration while working as a touring musician, including a stint as Quiet Riot's lead singer in early 2017. He is seeking an edge that will help his music career.
April 27, 2017
Seann Nicols was stranded, penniless, and more than 5,000 miles from home in the middle of a snowstorm in south Germany.
That night in 2006, Nicols – a singer on a world rock tour – encountered one of the worst moments in his music career.
His band leader fired him and other bandmates after they refused to take a drastic pay cut.
"I couldn't believe something like that could actually happen," Nicols said. "I was upset and angry."
Nicols earned a business administration degree from the University of La Verne in 2016 and is now pursuing a Master of Business Administration from the university online to help him advance his music career.
The early results are good.
This year, he toured as lead singer of the iconic 1980s heavy metal band Quiet Riot. He has most recently been recruited as the lead singer for Ratt.
He is using his business knowledge to help avoid the pitfalls musicians often encounter in the entertainment industry. He believes business savvy can help any musician achieve greater success. He is not alone.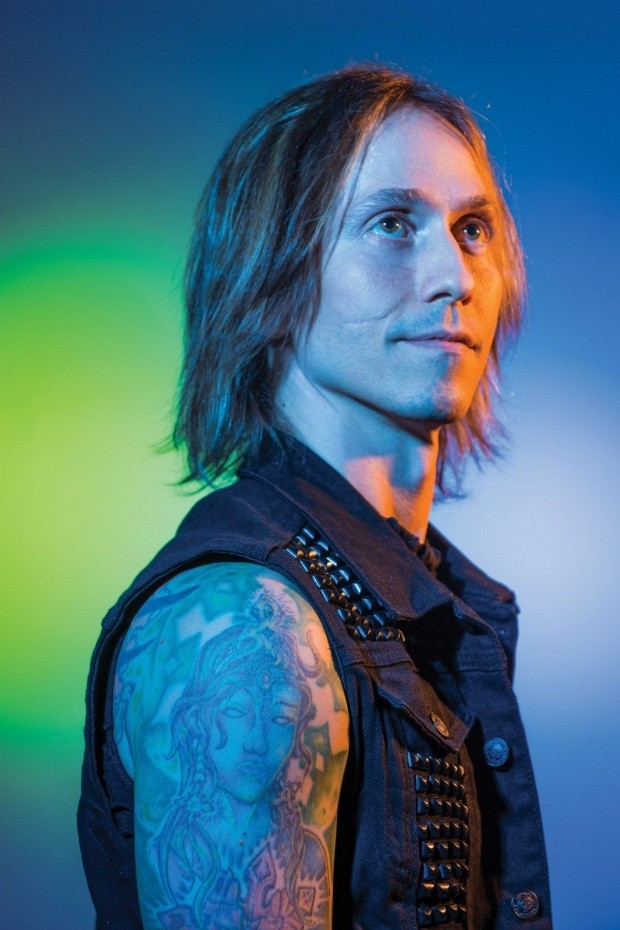 A December 2016 article in Adweek examined the marketing mastery of the rock band KISS. Band cofounder Gene Simmons spoke to MBA students in 2011 at London Business School, sharing his secrets to building a $1 billion brand. Twisted Sister singer Dee Snider went from reaping the success of his band's Top 40 hit "We're Not Gonna Take It" in the 1980s to declaring bankruptcy a decade later. He told Canadian Business magazine in 2015 that thinking like an entrepreneur has helped him reinvent himself, bringing in a six-figure income on voice-over work alone.
Dr. Janis Dietz, professor of business administration emerita at the University of La Verne, said musicians pursuing business degrees are common at the university because they recognize the value of applying business concepts to their careers. Nicols was one of the most motivated students in her classes, she said.
"For any artist, understanding the costs of operating is what usually shocks them," she said. "No matter how talented, they need to bring in more than they are spending. Accounting, profit and loss, and financial management are all important."
Now pursuing his MBA online, Nicols continues to develop those skills. He uses a laptop to log in for classes while on tour.
Born to Rock
Nicols, born Sheldon Tarsha, is the son of former Hollywood record producer, Danny Tarsha, who recorded artists such as Van Halen, Rick James, and Ronnie James Dio in the 1980s. His father also led the rock band Tarsha, which performed around Hollywood and inspired the then teen-age members of Guns N' Roses to become rock stars.
Nicols' exposure to his father's work inspired him to become a singer. His first performance was at Hollywood's legendary Roxy club when he was 15 years old. His career took him around the world, where he performed in front of thousands of people.
Former Guns N' Roses drummer Steven Adler hired him to sing for his band, Adler's Appetite, and Nicols also formed a solo project called Tarsha. But both ventures resulted in setbacks.
Working with Adler's Appetite, Nicols encountered canceled tours and financial woes. His solo project showed promise under a subsidiary of Columbia Records, but when the label was bought out, he was cut because he was not yet an established artist.
A New Purpose
Following a 20-city U.S. tour with Adler's Appetite, Nicols began to re-evaluate his life and singing career.
"At that point, I was 32-years-old, I had been going for 18 years straight, and I needed a break," he said.
He legally changed his name and started fresh. He enrolled in math classes at the College of the Canyons in Santa Clarita, and later earned an associate's degree. He then enrolled full time in the University of La Verne business administration program.
"I wanted to learn about how the music business works," he said. "I wanted to understand why I had not been able to grow or to get more of a foothold in a business sense in my own career."
He learned a lot more than that.
Concepts such as critical thinking, organizational structure, ethics, and planning have already helped. He steps back to take a Strength, Weakness, Opportunity, Threat (SWOT) analysis within his various projects to determine how to proceed in situations such as booking, recording, promoting, and marketing music.
"I'm able to key in on what creates value in any proposition," he said. Nicols has also picked up communication skills that come in handy for interviews. "Before I was just getting by on charisma," he said. "Now I have something worth saying and hearing."
Before I was just getting by on charisma. Now I have something worth saying and hearing.
After being hired by Quiet Riot, Nicols went on tour, involving once a month jaunts crisscrossing the U.S. for back-to-back concerts. He logs in for classes on his down time. It is a balance that has earned him praise within the University of La Verne community.
"Seann is very talented and motivated," Dietz said. "He is destined to be a fine contributor to his chosen field."