War and Peace
Firas Arodaki '12 lived through the Persian Gulf War and Iraq War while growing up in Kuwait. Those experiences now motivate the Master of Science in Leadership and Management student to assist others. He helps Syrian refugees settle in Southern California, raises money to support a Syrian orphanage, and stands up for the rights of Muslims.
October 23, 2017
The predawn sky filled with smoke and orange flames after a Scud missile struck a shopping mall several miles from Firas Arodaki's home in Kuwait. It was 2003, and the Iraq War had just begun. Arodaki, then 14 years old and frightened, peered out of his second-story window.
"The whole building was shaking and we were trying to figure out where it was," he said. "Then we saw the fire."
Fourteen years later, those memories remain vivid for Arodaki, who earned a bachelor's degree in computer science from the University of La Verne in 2012 and is now pursuing a master's in leadership and management. In fact, they drove him to create a nonprofit organization, the American Relief Fund, which supports people who have survived the horrors of war in the Middle East.
He also helps Syrian refugees settle in Southern California, provides aid to hundreds of orphans in Syria, and tutors English for students at the Islamic Center of Claremont.
"I want people to become successful when they come here to the U.S., get in the habit of being responsible, and help others to succeed," Arodaki said. "Selflessness builds communities and makes them influential. Selfishness destroys communities and marginalizes them."
The Land of Opportunity
Arodaki's parents are both Syrian, but raised their children in Kuwait where there were more job opportunities. Eventually, they sought a better life in the United States. The family applied for green cards and immigrated in 2000.
Arodaki traveled between Kuwait and the U.S. for several years before settling in the U.S. for good in 2007.
He moved to Oregon with his brother and began college courses, but did not know what he wanted to do with his life.
When Western University of Health Sciences in Pomona, California, accepted his brother for a doctoral program, Arodaki took a closer look at his own future and applied to the University of La Verne. A love of programming led to him to major in computer science.
Soon after classes started, Arodaki and two other students — Nawal Atoura '13 and Rasha Dubuni '13 — found each other while searching for a prayer room on campus. The students would go on to create the Muslim Student Association in 2010.
An on-campus screening of the 1976 Anthony Quinn film "The Message" — a historical drama chronicling the life of the prophet Muhammad — served as the kickoff event for the club. The club quickly gained momentum, and Arodaki had found an outlet for his passion for activism and advocacy.
Arodaki, now the Muslim Student Association president, regularly speaks and organizes public events on campus to help people better understand what he says are Islam's core values of peace, respect, and love.
"Firas has a brave and gentle spirit," said Dr. Zandra Wagoner, university chaplain and the club's adviser. "He is committed to supporting marginalized persons, both in this country and abroad."
Professor of Computer Science Dr. Seta Whitby said Arodaki might not have found his calling at a place other than the University of La Verne.
"The campus community taught him that, yes, you have a voice," she said. "He blossomed, and I am very proud of him."
Standing up for Syrians
Arodaki discovered the Union of Free Syrian Students while searching the Internet for ways to help his compatriots. The students, from colleges across Syria, organized following the start of the 2011 Syrian civil war to protest the government of Bashar al-Assad.
The union recruited Arodaki because it needed an English translator. He helped organize protests and developed curriculum for Al-Furat University after the Free Syrian Army gained control of the campus. At times, his volunteer work became so intense that it took a toll on his academic well-being.
Sometimes you have to stand up to send a message.
"I wasn't keeping up with my homework and studying," he said. "I was dedicating too much time toward Syria. But the professors were very considerate about this."
Arodaki made the grades, and he graduated in 2012 with his computer science degree. In 2016, he and six others founded the American Relief Fund in Fullerton. The nonprofit provides rental assistance to refugees, pairs sponsor families with refugees to help them integrate, and financially supports more than 600 orphans in Syria and Turkey.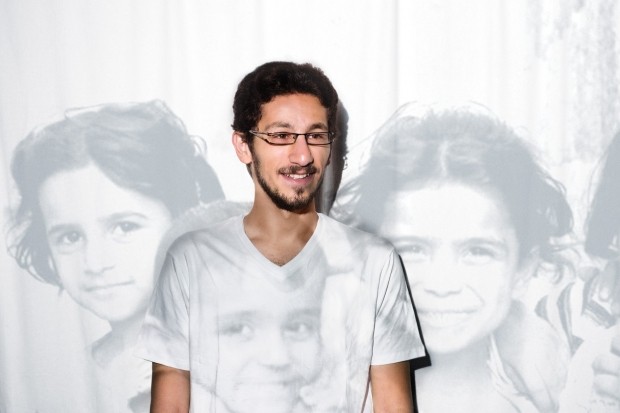 It can be a difficult job, with families still trying to shake the terror they experienced back home. Arodaki works with a Westminster family from Aleppo, the worst-hit city in the civil war. The family's teenage son suffers from a head wound he sustained when a gunfight broke out on the street.
"A bullet passed through a wall, hit his head, striking one of the nerves," Arodaki said.
The 17-year-old high school senior struggles to walk, but through surgery and physical therapy, his condition is improving.
Arodaki joined the youth branch of the Los Angeles-based Syrian American Council, and traveled with the organization to Washington, DC, in March to urge legislators to support bringing refugees to the U.S. and put pressure on the Syrian government to stop killing civilians. He serves as an adviser for the group's youth committee.
He also joined protesters at Los Angeles International Airport this year following a presidential executive order banning entry to the U.S. from certain
Muslim countries. Some airport visitors honked in support, while others — unhappy to face travel delays — told him to get a life. But he has no plans to give up on his mission to help others.
"Sometimes you have to stand up to send a message," he said.
"Showing solidarity is very important. Sometimes it affects our lives. Maybe I'll be late for a flight, but I'll feel good that I supported people who are affected by war."
Learn more about Arodaki's organization at arforganization.org