The Colors of Culture
A woman with flowing blue tresses and Aztec earrings stands tall outside the Landis Academic Center, looking west. She is not a student, professor, or staff member. She is the University of La Verne's new mural, titled "Nevertheless…They Persisted."
October 23, 2017
A woman with flowing blue tresses and Aztec earrings stands tall outside the Landis Academic Center, looking west. She is not a student, professor, or staff member.
She is the University of La Verne's new mural, titled "Nevertheless…They Persisted."
The vivid 20-foot-tall artwork is part of the Mural Project, which was conceived by students who wished to see their culture represented on campus through art.
"The Los Angeles region is so rich in murals," said Dr. Jon Leaver, professor and department chair of art history. "They felt it would be great if we could add that to the La Verne campus as well."
University administrators agreed. They formed an Arts Council and placed Leaver in charge. The university selected Los Angeles artist Kristy Sandoval for the first piece. Sandoval, who has painted more than 30 murals, juxtaposed symbols of indigenous culture, La Verne history, and the perseverance of college students. She painted orange groves — paying tribute to the city's citrus industry of yesteryear — and included students in caps and gowns, commemorating the graduating class of the university's 125th anniversary year.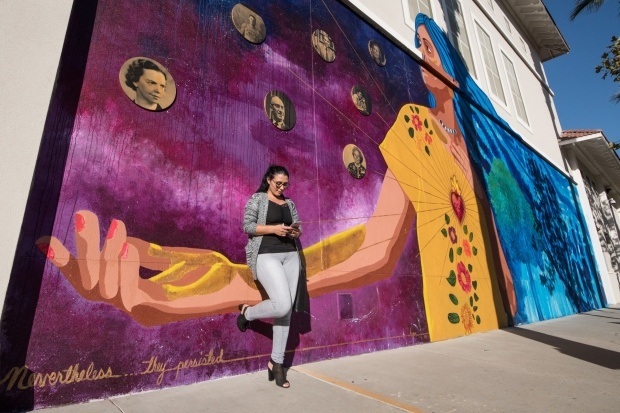 A handful of students and alumni, including Jacqueline Recendez '17, helped with the painting, which is located on the south wall of Landis. Despite being exposed to the elements, the mural is designed to last 20 to 30 years.
"I think it's a great way to engage the students and add vibrancy to the campus," Sandoval said.
As she painted the mural toward the end of the spring 2017 semester, Sandoval said many students asked questions about the painting's elements and back story.
The university unveiled the mural in the fall. Artists will be commissioned to paint three more murals around campus in the next several years.