When Alexandrea Flores enrolled at University of La Verne, she never dreamed that she would be a CEO before graduation.
The first-generation business student from Chino Hills, California, had always been happy with a supporting role in group projects. That changed after she interviewed for an executive position in a student-run business in her junior year.
Flores served as CEO of Recharging Hope, a retractable cell phone charger company, in fall 2017. After weeks of leading staff meetings, reviewing financial reports, and guiding company strategy, her initial apprehension gave way to confidence. And her team's profits rose.
"Now that I've actually done it, I realize I should have given myself a little more credit. I don't know what made me think that I couldn't do it," she said.
Experiences like Flores' are exactly what College of Business and Public Management administrators aimed for when they launched the Integrated Business Program, which requires undergraduate business students to create a real company before graduation.
The university developed the program after noticing a trend in job placements involving alumni who seemed reluctant to apply for the kinds of high-skill jobs for which they were qualified.
"We were giving them a degree, but we were not giving them confidence," said Rita Thakur, associate dean of the College of Business and Public Management. "Many of our students are first-generation college students. They don't always know what to expect. They don't know what is out there, or how to interview, or write a good résumé. If we don't show them that they can be successful, they may not ever believe it."
So college administrators and faculty created a series of programs to help all students identify their strengths, chart a career path, and learn the soft skills — like interviewing, communication, and teamwork —that are an asset in any workplace. The centerpiece of the undergraduate curriculum is the Integrated Business Program, which launched in 2011. For a single semester, the students take courses together in finance, management, and marketing. Students apply those lessons to a fourth course in which they break off into teams and create businesses from scratch.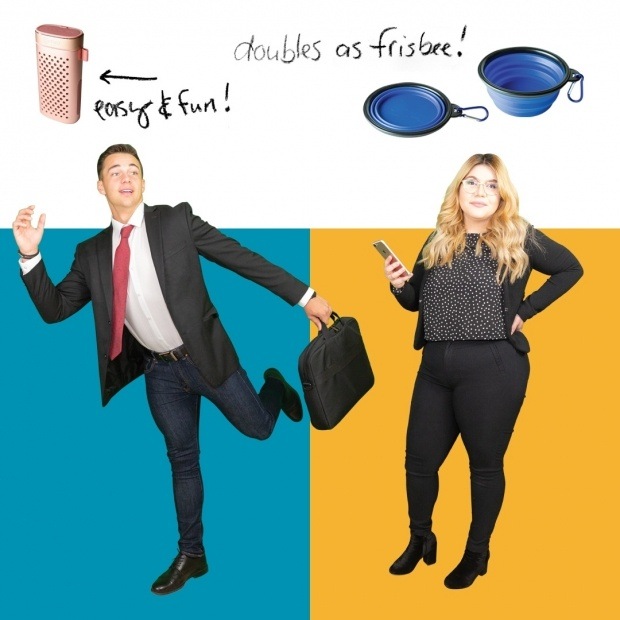 Students apply for leadership positions within the startup, do market research, select a product, calculate financial projections, and develop a business plan. But whereas other business schools stop at the theoretical stage, the University of La Verne's program is one of only a few in the nation to introduce real money.
The teams pitch their business ideas to a Wells Fargo bank representative in a "Shark Tank"-style presentation to secure a $2,500 loan. Then, the competition intensifies as the teams market and sell their products over the next 10 weeks.
"There is a major difference between creating a business plan and actually managing a business with real money," said Paul Abbondante, an associate professor of finance who helped develop the program.
When real money is on the line, students must solve real problems within the business, putting business strategy to the test.
What if the Chinese distributor mails the first shipment of products to Alaska? What if the second order of sunglasses does not match the quality of the first? What if a sudden drop in temperatures cools demand for cell phone-powered fans? These are all real problems that teams had to deal with in fall 2017, but each semester 
presents new challenges.
The faculty advisers take a hands-off approach, only intervening if a team is about to make an error that could sink the business.
"This program gives our students the ability to experience things that no classroom exercise can give them," said Ibrahim "Abe" Helou, dean of the College of Business and Public Management. "This is a great playground because if they make a mistake in this program it won't be devastating. It is a learning experience."
The bank loan must be repaid by the end of the semester, and the remaining profits go to local charities selected by the teams, a practice that supports the university's commitment to community engagement.
"We wanted our students to learn the value of giving," said Helou. "Partnering with a charity allows them to promote sales and get involved with the community at a deep level."
Student businesses have raised more than $155,000 for local charities since the program started.
Each student has a different takeaway from the program and new skills to add to their résumé. For some, like Annette Covarrubias '13, it offers the first chance to try out a role for which they had been preparing for years.
Covarrubias worked in sales and marketing for T-MAJik, a T-shirt company, in fall 2011. Now, she uses her Integrated Business skills daily as a sales planner for CBS Corporation.
"When I think of the University of La Verne, I think of the Integrated Business practicum. It was not just a great experience during my college years, but something I could take into the real world," she said.
The experience became a talking point in job interviews, she said.
"I always mentioned it and employers thought it was amazing. They had never heard about a program like that," Covarrubias said.
For other students, like Flores, the program reveals strengths that they did not know they had.
"The Integrated Business Program taught me that I can be successful in business," she said. "Now, I'm not going to waver when people give me an opportunity. I'm just going to take it."