Radiohead
Calling all music lovers. Tune in to University of La Verne's LeoFM to hear from today's top voices playing the hottest Top 40.
November 18, 2019
Cue the music. Switch mic on. Go live.
"Happy Valentine's Day, Mom!" Those heartfelt words from DJ Gouda echoed to more than 3,000 students, faculty, and staff across the University of La Verne campus in 2004.
"Too bad my mom wasn't among those listening," said Kevin Schatz, aka DJ Gouda, a 2007 graduate of the University of La Verne's Communications Department.
Still, it is a fond memory for the Los Angeles-based broadcaster, who launched his career at the University's radio station, LeoFM, which was then known as KULV. He credits that experience as the building block to his successful career on air at K-Earth 101 in Los Angeles and as a writer/producer for 93.1 Jack FM.
More than a decade later, he's still passionate about his job.
"I love the idea of being a human on one side and connecting with a larger audience on the other," Schatz said. "As on-air talent, we have the ability to make a genuine connection with our audience. Though tricky at times, it is an incredible experience."
On Air
For more than 40 years, the university's broadcasting program has been preparing students to work in media with a hands-on curriculum they can use
in a competitive market.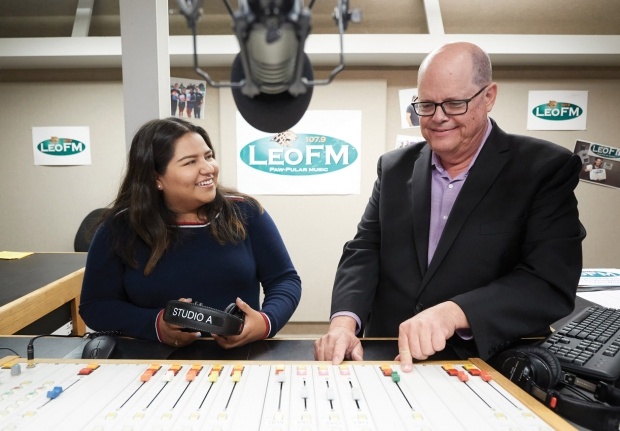 "Since day one, our goal has always been to train, support, and inspire the next generation of media professionals," said Mike Laponis, professor of communications. "We want our students to be prepared for whatever the industry throws their way, including the knowledge to handle production, editing, video, and being on-air talent."
The Communications Department was founded in 1975 with a focus on journalism. A year later, the program added radio and television. Soon after, it introduced KLVC, La Verne College Radio. The call letters changed to KULV when the college became a university. In 2007, KULV was rebranded as LeoFM.
Today, the program prepares students for careers in broadcast, radio, podcasting, entertainment, filmmaking, television, and video production. Several well-known radio personalities have graduated from the highly respected program, including Sabrina Ruiz, on-air talent for Hot 103.9; Nudia Hernandez, on-air talent for Mix 94.1; Mary Flowers Boyce, head writer for the Tom Joyner Morning Show; DJ Santana, board operator for 93.9 Jack FM and AMP Radio; John Ramos, producer and podcaster for Fox Sports Radio; and Daisy Moreira, Midwest regional manager for Def Jam Recordings.
"Our students are well prepared for fast-paced careers," Laponis said. "They are building their résumés while working in co-curricular opportunities. This includes working on air, making films, and creating digital content for both web and television."
Found at 107.9 on the FM dial, the station can be heard throughout campus, including the residence halls, the Sara and Michael Abraham Campus Center, the Sports Science and Athletics Pavilion, the Spot, Barb's Place, and the Arts and Communications Building. Listeners worldwide can tune in at leoFM.streamon.FM or on the radio app RadioFX.
'Mind-Blowing' Resources
"When I first walked into the Arts and Communications Building at La Verne, my mind was blown," said Christopher Norman '19. "The idea that there was a building dedicated to this field with the resources to practice on-air daily was incredible."
While at La Verne, Norman served as LeoFM program director, music director, and imaging director.
"I never took these positions for granted. They gave me a first-hand look at how to produce a successful show," said the recent graduate, who now works as a board operator for Anaheim-based Angels Radio AM 830.
Over the years, students have interned at radio stations, music labels, and entertainment venues, including KIIS-FM, KROQ-FM, AMP Radio, Power 106, KNX, KOST, Fox Sports Radio, and ESPN Radio.
Every student is required to complete at least one internship. However, Laponis noted that it is common for broadcast students to complete two or more internships in their junior and senior years.
Extraordinary Support
Alumni of the program credit the support and mentorship of faculty for their success.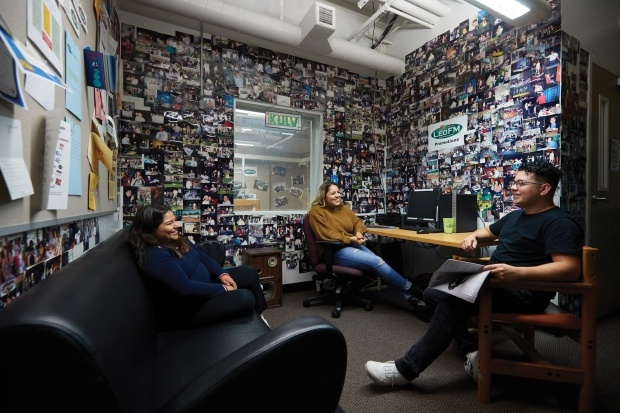 "It can be intimidating at first when you go on-air," said Noor Wahba '10, who is currently working as a producer at Los Angeles hip hop station Power 106.
"But every shift brought a new opportunity to better yourself, feel more confident, and stand out."
She still recalls the constructive feedback Laponis would provide after her two-hour shifts.
"In radio, the key is to be short and sweet, but never forget the personality," Wahba said.
"He would always remind me to slow down, be mindful of my tone, and to always turn on the energy. Even if I had zero hours of sleep."
Bright Future
LeoFM's talk-radio topics can range from campus events, pop culture, politics, and music trends. In three required courses on radio production and studio operation, students learn how to pre-produce a show using audio software such as Avid Pro Tools to create teasers and voice-overs.
"Every day we are building our portfolio for real-world experience," said Zachary Niccoli, a junior broadcast major with a radio concentration.
"As students, we have access to three professional studios for recording, sound mixing, editing, and for on-air time. This is our playground."
Niccoli has worn several hats at LeoFM. He is currently the sports director and, over the summer break, he met with local businesses to generate on-air advertisements. This fall, he will focus his attention on football commentary.
"In this business, you get what you put in," Niccoli said.
Niccoli is already reaping the rewards for his efforts. When he interviewed for an internship at Angels Radio AM 830, he was told that his experiences at LeoFM went beyond what the station would require of him.
In other words, he was overqualified. In the fast-changing, competitive world of radio broadcasting, that's a very good thing.