Vikki '74 and Khalif '73 Rasshan love to teach. So much so, that even when they retired, they just couldn't stop.
The college sweethearts met when both were undergraduates studying sociology at University of La Verne. Following graduation, they got married and immediately began teaching in local schools. Vikki taught at North San Antonio (now Barfield) and Roosevelt Elementary Schools, while Khalif taught at Lexington Elementary School and Garey High School, among others. After long and satisfying careers, the Rasshans both retired in 2010.
With their own children grown, they thought they would keep busy by substitute teaching, but life took a turn. In February 2011, the Rasshans put together an exhibit of artifacts to teach young people in their community about Black History Month. It began as a modest endeavor, but soon snowballed as more people — many from the couple's Church of God congregation — donated artifacts and offered support. A space was made available to them at no cost for the first six months, and local civic leaders even got involved, from Pomona Unified School District Superintendent Richard Martinez to Pomona Chamber of Commerce Director Frank Garcia.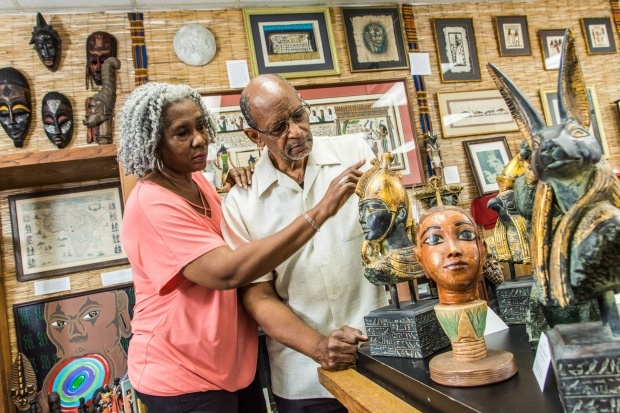 The next thing they knew, the Rasshans were running the African American Museum of Beginnings, which they bill as "a community cultural history and arts museum… where humanity is welcomed home." The core of the museum is its impressively large and diversified collection of artifacts, including African masks, books on African American history, a collection of Barack Obama souvenirs, sports memorabilia, movie posters, and vintage records.
During Khalif's tours, he shares that it is called a "museum of beginnings" because anyone can walk in and discover something new: "It is meant to open up dialogues."
Beyond the collection, the museum engages with its community. Located at The Village at Indian Hill, the museum holds film screenings, talks, book signings, a children's reading circle, a monthly quilting circle, health and wellness events, and even chess lessons for kids.
The Rasshans credit their time at the University of La Verne, which they describe as "very inclusive and nurturing," for instilling in them a lifelong love of history, knowledge, and learning. The university community was close-knit, and students were encouraged to explore their cultural heritage.
Rodney Davis '48, who was a psychology professor at the time, was especially encouraging, serving as advisor to the Black Student Union, in which Vikki and Khalif participated. The couple remain close to their college cohort, which includes university Trustee Emmett Terrell.
The Civil Rights Movement of the 1960s, which directly preceded the Rasshans' college years, was also influential.
"We are the second generation of the Civil Rights Movement," Khalif said. "We benefitted from it, but we are also obligated to contribute."
To that end, the Rasshans would like to keep the musuem going for another 50 years. Now a 501(c)(3) organization, the museum has many supporters, but their goal is to expand its income streams and move into a new space sometime next year.
Most importantly, they want to involve more young people in their operation. Plans are in the works for their first-ever gala and a museum membership. As Vikki says: "This museum belongs to the community, not any one person — we all own it!"
To learn more about the African American Museum of Beginnings, visit taamb.org.