Uncanny Details
Barack Obama, Bill Clinton, George H.W. Bush, and Oprah Winfrey count themselves among the admirers of Phoebe Beasley, University of La Verne's 2019 Artist-in-Residence.
June 12, 2019
Phoebe Beasley once made Oprah Winfrey cry.
Winfrey's longtime partner, Stedman Graham, had commissioned the mixed-media artist, who is the University of La Verne's 2019 artist-in-residence, to create an artwork as a gift.
When the two women first met to discuss the project, Beasley described her visual idea: a tableau from Oprah's childhood, accompanied by her grandparents.
Winfrey's eyes filled with tears.
With only a few photos to use as reference, Beasley had drawn inspiration mostly from intuition. Yet her words conjured up an uncannily accurate representation, including details the megastar had never discussed publicly.
Winfrey became an avid collector and supporter of Beasley's work—as have other famous people like Shonda Rhimes, Samuel L. Jackson, Keenan Ivory Wayans, Tyler Perry, and the late Maya Angelou.
Painter of Presidents
Beasley is the only artist in history to have received the Presidential Seal for two separate commissions: the 1989 inauguration of President George H.W. Bush, and President Bill Clinton's inauguration in 1993.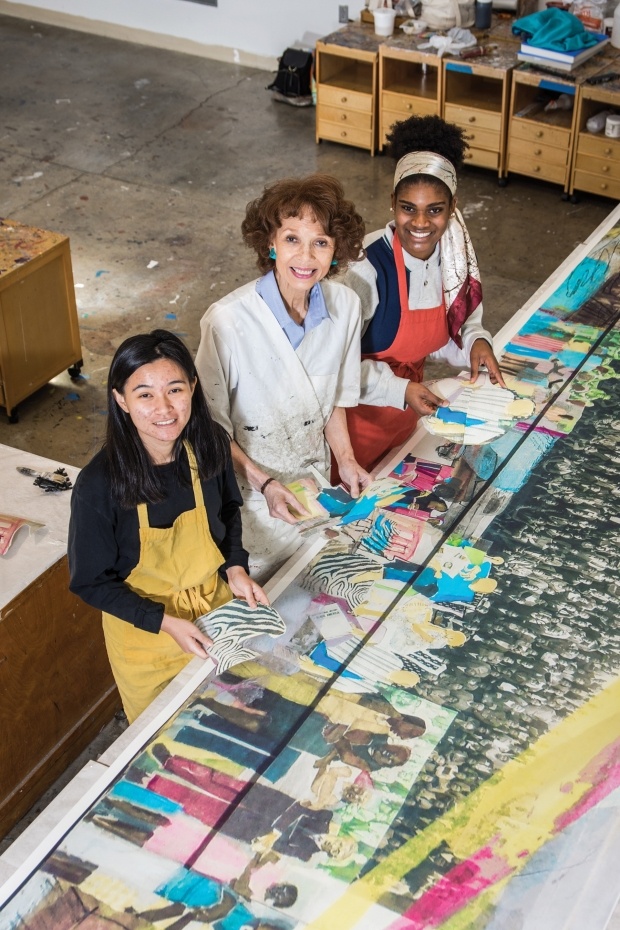 She was one of 44 artists asked to participate in the 2012 traveling exhibition Visions of Our 44th President, honoring President Barack Obama.
While her credentials are impressive, it isn't the list of famous patrons that defines Beasley as an artist. Rather, it is the profound impact that her work has on many who encounter it—channeling her deep empathy and caring for her subjects.
Beasley has been active since the 1960s. Her collages employ a mix of painting, drawing, and found materials to conjure vivid scenes of everyday life. Fragments of utilitarian objects—skirts, boxes, a radio, a fishing rod and reel—combine with her expressive marks to evoke a familiar, lived-in feel on the canvas.
Beasley also creates abstract works. These pieces show her mastery of the two-dimensional medium and pay homage to her modern and contemporary influences, which range from hard-edge painting to Robert Rauschenberg. She makes sculptures in the great tradition of California assemblage, artfully arranging found objects that she imbues with symbolic meaning.
Beasley Shows at Harris Gallery
Beasley's works were on display at the University of La Verne's Harris Gallery from March 18 through May 17, 2019. The exhibition followed a two-week, on-campus residency in January, during which Beasley created new artworks, collaborated with two student interns, and conferred with students and faculty.
She was particularly excited about using technology, such as oversize and 3D printers in the Wilson Library's Makerspace. She focused on creating an enlarged, mounted edition of Class of '33, which would form the centerpiece of the exhibition. Both the exhibition and the residency were supported in part by university donors and ardent art patrons Brenda and Bill Galloway.
Reflecting on her long career and large body of work, Beasley speaks fondly of the pieces portraying people, their accomplishments, histories, and communities.
Asked what makes her happiest, she pauses for a moment to consider her answer.
"It's when collectors tell me that I'm a part of their home," Beasley said. "That they see my work every day and look for new things in it. Since I don't have kids, my work is my legacy."