A River Runs Through Them
Corlan Ortmayer Harrison '79 has more than blood flowing through her veins. She also has gallons of river water.
October 17, 2016
Corlan Ortmayer Harrison '79 has more than blood flowing through her veins. She also has gallons of river water.
As the daughters of iconic University of La Verne Coach Roland "Ort" Ortmayer, Harrison and her sister, Susie, were the first of the university's famous "Floaters."
What began as a family tradition has grown into a university staple, with hundreds of participants joining throughout the years.
But adventures began under devastating circumstances.
In 1952, Roland and Cornelia Ortmayer were university "dorm parents," living in Woody Hall and overseeing its male students. During Easter break, their 5-year-old son, David, drowned at Puddingstone Reservoir.
The Ortmayers planned a camping and hiking trip to escape the painful memories on the one-year anniversary of his death. The residents of Woody Hall and others would not let them grieve alone. Nearly a dozen Woody Hall students announced, "We're coming with you!"
The iconic Easter trips with students started with just hiking, but in the late 1960s, the floating began.
The Ortmayer sisters remember their first float.
"I thought it was awful, slow and monotonous," Harrison recalled.
But as the rivers became more challenging and the float became more exciting, she was hooked.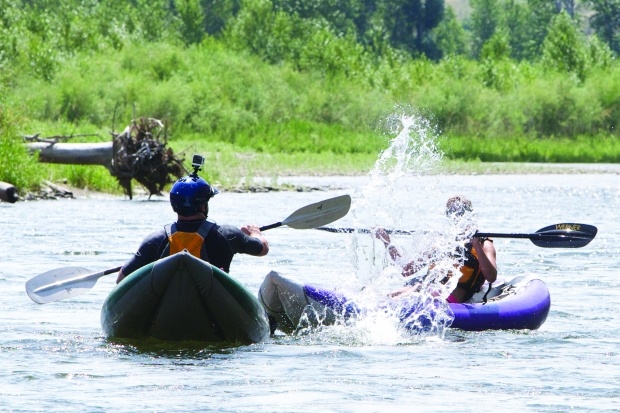 As the years went by, the number of University of La Verne students, families, friends, and alumni grew.
One was Rugere De Partee '74, who has run the program with his wife, Joannie '73 since 1996.
"I started hearing about Easter trips when I was still in high school," De Partee said. "I had friends enrolled in La Verne and they were going on an Easter hiking trip that sounded so exciting."
A recipient of the Distinguished Alumni Award for Service to Alma Mater, De Partee, along with Tim Morrison '77 and Mike Riggs '85, assisted Ort in leading most of the alumni float trips up until the coach handed over the program.
Hauling rafting gear and camping equipment, the "Floaters" hit the wilds of Montana and Idaho year after year.
The July 2016 trip included nearly 80 Floaters who visited such picturesque rivers as the Yellowstone, Jefferson, and Henry's Fork of the Snake River, as well as camps including Indian Fort and Pine Creek.
Previous trips have drawn adventurers as young as one month old to more than 90 years old.
Chris Brookhart '87 joined the Floaters after taking one of Ort's summer courses called, "Where Lewis and Clark Met the Mountains."
"It was kind of a present to myself," he said. "The daytime was kayaking and the evening was history around the campfire. It was a month in Montana and Idaho; a great experience, and wet!"
Brookhart said the alumni who had been gathering for Easter trips decided they wanted something with the flavor of the class, so Ort extended Lewis and Clark by two weeks to include alumni.
The less-formal version of the class focused on fellowship and time on the water.
Brookhart, now a busy firefighter with the Upland Fire Department, has only missed three trips since.
Experts and novices make up the multiple generations who are now Floaters, taking on a mix of calm and challenging rivers. Sometimes the weather is gorgeous, sometimes thunderstorms rattle the skies and there has even been snow.
But the code of camaraderie and support for everyone is well understood.
"Ort's motto, and really the mission of the program, is 'those who can help those who can't, so that those who can't become those who can," Brookhart said.
Nancy Newman '89 remembers taking her 2- and 4-year-old boys when she was a newly-single mother.
"They don't let people be afraid or feel isolated. Nobody is excluded," Newman said. "La Verne has always been about creating a sense of family, and the Floaters embody everything La Verne is."
If it floats, it is welcome.
Participants bring inflatable kayaks, 20-foot long ocean kayaks, canoes, paddleboards, and rafts. Dogs often tag along with their owners.
"I remember Mom and Dad on a raft with our dog, Charity," Harrison recalls. "Charity could hear rapids way ahead before the people could. On one trip, they hit some rapids and Mom was knocked out of the boat. Dad grabbed her by the foot, which unfortunately kept her under water. She always had a lot of fun telling that story!"
Ort and his wife, Corni, celebrated their 50th wedding anniversary on a Floaters trip, with hundreds of alumni as guests.
The 30th year anniversary of Floaters was marked in 2009, one year after its beloved founder died.
De Partee, Newman, Brookhart, and others say that despite his fame in university athletics, Coach Ort's extraordinary guidance within the Floaters is what makes his legacy most indelible.
The trips have transformed lives.
Brookhart bought property in Montana, as have many other alumni, and plans to retire there.
According to Harrison, relationships have begun – and ended – on the river.
"If you can go over rapids like these with your loved one, then your marriage should be solid!" she says.
And she should know. She met her husband, Rob Harrison '83 on an Ortmayer river float.
Their daughter, Rayna, now enrolled at the University of La Verne, is destined for some river adventures of her own.
Her grandfather would be proud.