Foster's Care
A family crisis turned into a life-changing opportunity for Beverly Foster '04, '06, who runs a training center for young adults with special needs in Kern County. It is a site that will give her students a chance at technology careers, a cause so noble it convinced the White House to provide financial support.
April 27, 2017
The phone call Beverly Foster received in 2005 turned her life upside down. One of her relatives had been incarcerated, and the man's four children were suddenly without a caregiver.
Compelled to help, Foster took them in.
Foster, a Bakersfield financial consultant at the time, was already raising two boys, including one with attention deficit hyperactivity disorder (ADHD). Three of her new children also had special needs.
"I found myself with a house full of kids, each with a unique set of challenges, along with a second round of diapers and bottles," Foster said.
The newfound challenge of raising six children – four with special needs – inspired Foster to find her calling. She left the financial world to pursue a special education teaching degree from the University of La Verne's regional campus in Bakersfield, and spent the next nine years as a special education teacher.
After retiring from teaching in 2014, Foster opened a training center for young adults with special needs in Kern County.
The Next Step Vocational and Transitional Center in Bakersfield now prepares students for technology careers, a cause so noble it prompted the White House to provide financial support. In 2016, then-Vice President Joe Biden awarded Next Step a $4 million grant to help the organization expand its mission.
As administrative director for Next Step, Foster is making the most of the support. She has created partnerships with organizations such as Bakersfield Adult School to provide classes in graphic arts, 3D animation, and Information Technology for her students. This year, the University of La Verne agreed to provide classes for Next Step students on its Bakersfield campus.
"The University of La Verne has always been there for me," she said.
A New Purpose
Work on the California Aqueduct lured Foster's family from Kentucky to Bakersfield when she was 8 years old.
Foster's career of choice was accounting, but she later discovered it was not her passion. She began to think about working in special education when her son, Matthew, was diagnosed with ADHD.
"A day he did not have to be sent home from school was a good day," she said. "It was that bad."
The itch to change careers grew even stronger when she began parenting the four additional children. Three of them, who then ranged from 2 to 7-years-old, had ADHD, Asperger Syndrome, and autism. Foster initially took them under emergency foster care and adopted them a year later.
She wanted to change the way children like hers were being taught, so she obtained an emergency credential in 2005, and began working with high school children with mild to moderate disabilities. She saw plenty of success stories in her students.
But she also saw that many had a difficult time getting jobs after graduating from high school.
"They all have a diploma, but five or six years later, they're still sitting at home playing video games in their bedrooms," she said.
When the students saw Foster out in the community, they asked her the same question: "What's my next step?"
That question stuck with her, and when she retired from teaching in 2014, she set out to find an answer. She initially joined with the nonprofit Exceptional Family Center, headed by longtime friend, Grace Huerta.
The center helps families of children with special-needs apply for Supplemental Security Income, provides free computer classes, and offers other services such as notary public and document transcription.
Foster and Huerta recognized the need for vocational training, and Next Step opened in October 2016. She got instructors from Bakersfield Adult School to teach classes in topics ranging from technology to medical billing. She teamed up with the Valley Achievement Center, another organization that helps people with special needs, to teach classes in soft skills such as communication.
Next Step now serves 19 high-functioning adults who are between 18 and 29-years-old. Foster hopes to increase that number to 70.
"I don't want to turn anybody away," she said. "I want to get them to work."
Next Step's partner, Valley Achievement Center, provides transportation to get the students to class. The students punch a time card upon arrival so they become accustomed to a work environment. All of them have received vocational assessment to determine what line of work they should pursue.
"They're training me how to be professional for when I get a career in the future," said Whitney West, 23, who wants to be an animator.
Faculty in the University of La Verne graduate program are proud of Foster.
Teachers often become frustrated when they feel their students aren't getting the opportunities they deserve outside of school. Foster's style is to do something about it, said Dr. Patricia Taylor, associate professor of education.
"Beverly always stood out from her peers as a passionate champion of the children she taught, with a bit of mama bear in her," Taylor said.
Nora Dominguez, director of the University of La Verne's Kern County campus, praised Foster for making an impact in the community.
"Beverly's compassion for people with disabilities compels her to work tirelessly finding opportunities and solutions to advance their quality of life," Dominguez said.
A White House Gift
When the U.S. Department of Labor posted a grant opportunity called Tech Hire in 2016, Huerta suggested Foster pursue it.
Nearly 29 percent of Kern County residents live with a disability, according to the California Health Interview Survey. That number is higher than the state average.
Foster doubted the center would receive the grant, mostly because she had no experience writing a grant proposal.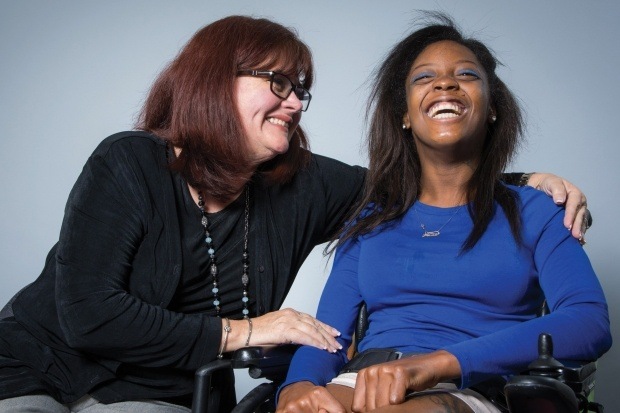 "I thought it was a long shot," she said.
Former Vice President Biden announced in June he was awarding $150 million in grants, and that Next Step was one of the recipients. But an e-mail from the White House fell through the cracks.
Foster learned the good news when a newspaper reporter called for an interview.
The grant, she said, provides more than symbolic help for her students. It will allow Tynesha Murray, a wheelchair-bound woman living with cerebral palsy, to become certified in medical billing and coding so she can get a better job. It will help 20-year-old Christian Record, who has Asperger Syndrome, learn how to communicate with others so he can put his portfolio of computer coding to use.
"His computer skills are through the roof," Foster said. "And he types 150 words per minute."
It will help Patrick Dickey, 20, who lives with ADHD, Obsessive Compulsive Disorder, and Asperger and Tourette Syndromes.
He dreams of earning a living as an animator and a YouTube gaming star. Next Step is helping.
"The environment and the teachers are all friendly and nice," he said. "When you're stuck, they do their best to help you."
Foster's next goal is to pair students with area employers. Next Step will continue coaching students even after they are hired to ensure they are adjusting to their new environment.
Foster believes technology giants like Google and Microsoft should hire more workers with special needs. Her students not only have the skills, but also a stellar work ethic, she said. They are known for clocking in 10 minutes early and clocking out 10 minutes after their shifts end.
"They come fully invested in giving it their all," she said.