Petal to the Mettle
As president of the Tournament of Roses Association, alumnus Bob Miller kept some of Southern California's most beloved traditions afloat through two tumultuous years.
June 6, 2022
Bob Miller '79, DPA '14, had waited 38 years for this moment.
On the morning of January 1, 2022, as president of the Tournament of Roses Association, he and his wife, Barbara, their four grandchildren, two adult children plus spouses, and Miller's 92-year-old mother, Bernice, climbed aboard a vintage fire engine for that iconic ride down Colorado Boulevard.
More than four hundred thousand pandemic-weary fans roared their approval, and 32 million viewers watched the Rose Parade on television.
Later in the day, the Rose Bowl Game was seen by 92,000 fans within the Bowl and another 17 million on television. Miller, 66, credits his eclectic career and education—including two degrees from University of La Verne—with preparing him to lead the tournament's 935 volunteers and 31 operating committees through two uncertain years.
"I believe there's a plan for all of us," he said, "and this was the plan for me. I'm pretty good with challenges."
A flair for high-impact TV flows in Miller's veins. His father was a pioneering television audio engineer who'd worked the sound boards on the Ed Sullivan Show and the first NFL Super Bowl. When Bob and his twin, Rick, were 13, their dad moved the family from New York City for a new job with ABC's Hollywood studios. They settled into a house in Pasadena.
Miller planted lifelong roots in the community. It was over a pilgrim-themed Rose Parade float that, at 17, his eyes first locked with those of his future wife. They were gluing flower petals onto the Mayflower as part of a church youth activity.
After finishing his associate degree at Pasadena City College (PCC), Miller was recruited by La Verne College to help launch its telecommunications program in 1975. He taught the college's first courses in radio and television production and operations while working on his own bachelor's degree in business administration. His career in distance learning took Miller back to PCC, and later, Intelecom, the instructional TV arm of a consortium of 31 Southern California community colleges. In 2019, he retired as vice chancellor of finance and resource development with the Los Angeles Community College District to take up the travel-intensive duties of leading the Tournament of Roses Association.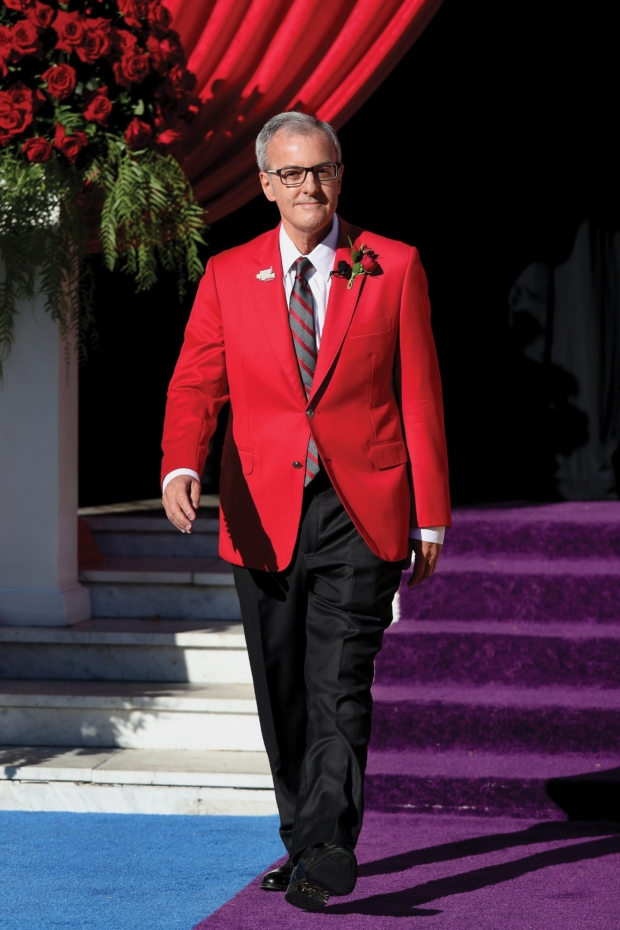 His 2020-21 term started out like any other. As president, Miller had four basic responsibilities: choose a theme, name a grand marshal, visit participating marching bands and other parade and Rose Bowl Game participants, and be the tournament's ambassador-in-chief. But tradition unraveled overnight in March 2020 and by April, Miller was contemplating the unthinkable.
In late July 2020, the organization made the painful decision to pull the plug on the parade due to the COVID-19 pandemic and started looking for ways to fill the gap. Leaning on his television production expertise, Miller and colleagues reimagined the 132nd Rose Parade as a television special: part historical retrospective, part live entertainment, part telethon.
To comply with California health and safety guidelines, on December 12, 2020, Miller and his Executive Committee colleagues made the difficult decision to move the iconic Rose Bowl Game. The Tournament Football Office team hustled to produce the January 2021 Rose Bowl Semi-Final College Football Playoff long-distance from Arlington, Texas.
It helped immensely that late in his career Miller had returned to University of La Verne for a doctorate in public administration (DPA).
He'd enrolled in the weekend-intensive program in 2009, looking to build new leadership skills as a community college executive.
"It turned out to be the right program at the right time," he said. "When I looked at the cohorts, they were all people working in high-profile public service jobs: city managers, police chiefs, and senior level education executives like me."
The DPA program opened new doors for Miller at work and in public service. Active in the Rose Parade organization since 1984, he was invited to join the executive committee in 2014—the same year he finished his doctorate. A lockstep promotion path put him in line for the 2020-21 presidency.
But by July of his term, Miller knew there would be no ride down Colorado Boulevard for him or anyone else. He didn't waste his time on self-pity.
"People would say: 'It's so terrible this happened during your watch,' and I would tell them: 'We've got to keep this in perspective. It's just a parade and a game and nothing like the debilitating illness or death let alone the financial harm or ruin wrought by the pandemic.'"
In October, Miller learned he would get a second shot when the tournament's Executive Committee decided to freeze its leadership rotation. He immediately began planning 2022's Tournament of Roses events and became the second two-year president of the association in its 132-year history.
When the COVID-19 vaccines arrived in early 2021, they injected new optimism. But it wasn't until September 2021 that Miller was certain the 133rd Rose Parade and 108th Rose Bowl Game would happen. He and his wife resumed travel as the tournament's top ambassadors. They took 25 trips in three and half months, including 15 site-visits to marching band home fields, where they headlined make-or-break fundraisers.
Miller remained upbeat through it all.
"I never, ever regret the time I spent on this," he said. "It was just an incredible experience. There were a thousand pinch-me moments."
Miller remains active in the Tournament of Roses leadership. Professionally, he also stays busy as a higher education consultant specializing in accreditation, program review, and vice chancellor and chancellor-level searches.
But his greatest legacy will surely be as the Pasadena civic leader who refused to let the parade pass him by.