A Portrait of Success
University of La Verne President Devorah Lieberman reflects on her dozen years of leadership, the values that inspired her throughout her service, and the memories she will cherish as she closes her chapter in the university's presidential history.
April 21, 2023
Despite being raised in nearby Covina, President Devorah Lieberman had never heard of La Verne College when she was growing up. When her family talked about college, "my parents were focused on public institutions, not private ones. They considered private institutions to be too 'elite' for our family."
Fast forward to 2010, and Lieberman was living in New York, serving as provost at Wagner College, when she was contacted by a search firm. The company wanted to know if she would be interested in adding her candidacy to the pool for the presidency of the University of La Verne. What was once a small college founded by members of the Church of the Brethren, the university was growing its footprint as a diverse and respected academic institution. Still, Lieberman was a bit skeptical.
"Being a university president was not my goal. My goal was to serve university students and to provide opportunities for them to have greater access and achievement," she said. "And I never expected to hear back from the search firm. This had been a Brethren institution, and I'm a woman named Lieberman, not of Brethren heritage and not male, as the 17 prior presidents had been."
"I also did not want to take on a new role anywhere unless I was aligned with the mission of the organization. That is my compass for decision-making."
But the search firm did call back. During the interview, Lieberman visited the University of La Verne campus and discovered that the university was far from a stereotypical example of an elite, privileged private institution. She met the students, the vast majority of whom were from hardworking communities, and many the first in their families to attend college. She listened to the stories of what had brought them to the university and heard of the pride they felt in achieving more than they ever imagined possible.
"This was my first impression of the University of La Verne," she recalled. "What struck me were the values that were so clear—of giving, humility, caring for the planet, acceptance of others. I knew our values were aligned. I called my husband and said, 'if they offer me the job, I will accept.'"
They did, and she accepted. In 2011, Lieberman became the 18th president of the university and began a tenure marked by extraordinary institutional growth, achievement, and success. Her tenure will come to an end in July, with her retirement.
The Value of Listening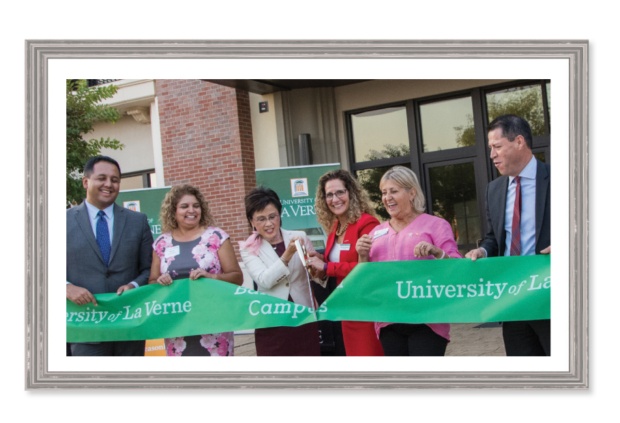 In the dozen years that Lieberman has led the university, there have been seismic societal changes, but the values that drew her here have never changed.
I am very proud of what we have achieved as an institution," she said, "but in this time of political division, I am even more proud of how we have created co-curricular opportunities to learn to communicate across lines of difference. We have created a campus where students can be instruments of collaboration and positivity in their communities, where they demonstrate communication skills, empathy, and the desire to bring people together."
One of her key methods of sustaining these values is through listening. Shortly after she arrived, she and her leadership team began a strategic vision plan. One of its key goals was to determine what professions the community most needed. They talked to advisory groups, consultants, community organizations, and a councils of regional leaders.
"Rather than telling the region what it needs, we listened to what its leaders had to say about preparing our graduates to be career-ready and socially ready," she said.
Those conversations led Lieberman to focus on important new programs designed to prepare students in a variety fields, including business, entertainment, artificial intelligence, law, and health. Also, a new college has been launched—the College of Health and Community Well-Being.
Within the College of Health and Community Well-Being are ten academic programs with the first allied health programs in the university's history.
"We adjust, adapt, and change by listening, being nimble, and investing in our future," she said.
From the beginning, Lieberman has also listened closely to her Board of Trustees. "If it were not for this board, none of our accomplishments would have happened," she said emphatically. "It takes a great Board of Trustees to set the vision and support the president."
Supporting Students, and Those Who Support Them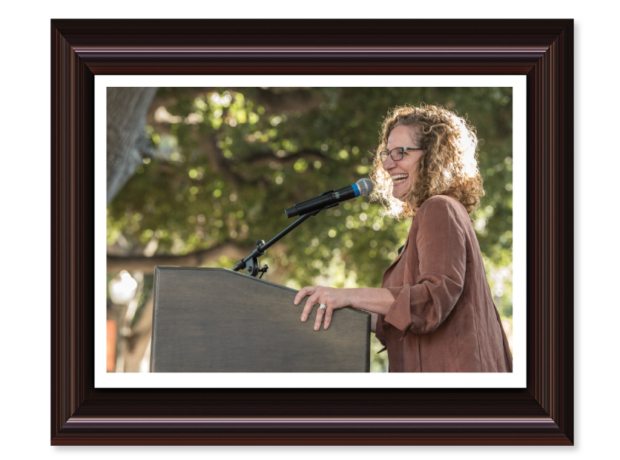 According to Board of Trustees Chairperson Anthony Revier, MBA '93, President Lieberman's 12 years of success at raising the funds and gifts needed to support a university deserve accolades. But according to Lieberman, it is not difficult. "I simply tell the students' stories, or have them tell their own stories," she said.
Donor gifts can be sizeable and headline-making, or they can be small and deeply personal. Lieberman reflected on the importance of both.
"When we were building what is now the Ludwick Center for Spirituality, Cultural Understanding, and Community Engagement, I explained to the donors that every single student will be able to say, 'I feel like I belong in this building, no matter what my culture, ethnicity, heritage, or background.' The lead donors commented that if they had a place and space like this at their alma mater, they would have had a much more inclusive experience. And then they said, 'we want to give more.'"
Points of Pride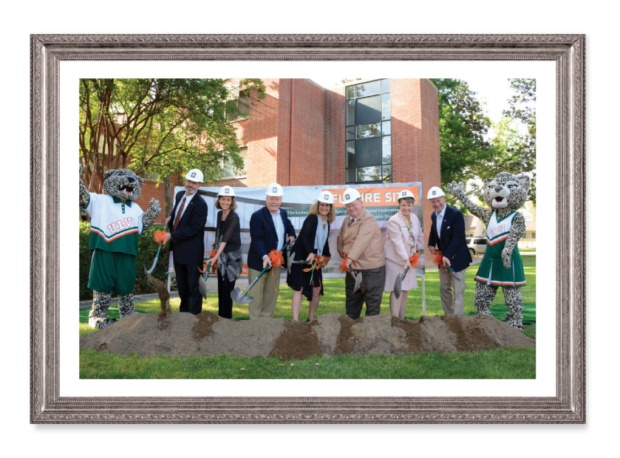 While the president is reluctant to take credit for the university's successes, she happily shared her special moments of pride.
"I am very proud that U.S. News & World Report recognized our school in a new category called Social Mobility. The university was ranked as the #6 institution in the country for social mobility, which looks at how effectively the university serves lower-income students."
She also pointed to the La Verne Experience, an early innovation during her tenure with multiple touchpoints that effectively connects students more deeply with each other, their professors, the university, their coursework, and the community itself.
Lieberman vividly remembers an early memory as president, watching College of Law graduates who passed the bar exam be sworn in by a judge.
"I was inspired by how proud everyone was. There were so many families, children, and friends attending and applauding," she said.
At the time, the university was striving to achieve its American Bar Association accreditation. But when it was finally granted, Lieberman and the university chose to relinquish it. "As a federally designated Hispanic-Serving Institution (HSI), we want to set our own gold standard. We are accredited by the State Bar of California and we will strive to be the best State Bar College in California." She proudly noted that enrollment in the College of Law is higher than ever.
Meeting the Challenge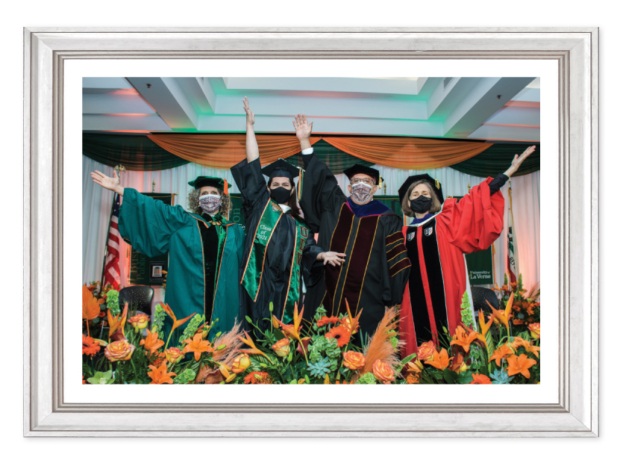 Not surprisingly, Lieberman cited the COVID-19 pandemic as her most challenging time as president.
"We did not know if COVID would last two weeks or two years," she said. But what she and her colleagues did know was that four criteria were paramount. "How do we keep everyone safe? How do we continue to deliver quality education and services? How can we keep our people employed? And how can we still be financially sustainable?"
Over the one-week spring break of 2020, she and her leadership team put in place the steps to move every class and every office online. "We had to support our students and continue to recruit new ones," she said.
Supporting the students meant much more than simply moving classes online. One day early in the crisis, as she drove through campus, she saw students sitting in parked cars.
"Some of these students didn't have Wi-Fi at home and had come to campus to do their course work. But others had been living in their cars. We quickly set up a process for moving them into residence halls, and some were there for two years," she said.
She summarized the experience simply. "I have never been prouder of our faculty, staff, and students," she said.
The Lieberman Legacy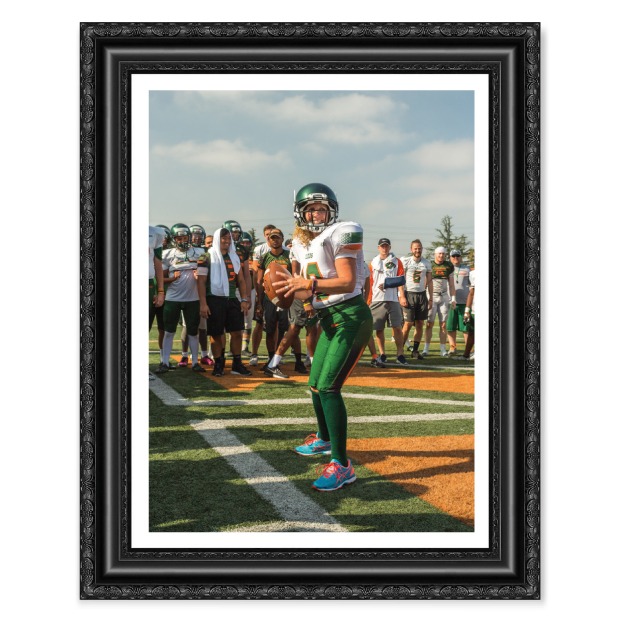 As the president contemplated her dozen years at the University of La Verne, her memories are both simple and significant.
"I'll miss walking around campus, sitting in the dining hall with others, going to plays and lectures and athletic events," she said.
Those sporting events included her own enthusiastic participation. "I'll miss scrimmaging with the football team once a year, passing and catching," she laughed.
"I will miss being part of our strategic thinking; asking ourselves 'what can we do to be the best?'" She has been asked to stay and assist in the transition to a new president, what she refers to as a "transfer of trust."
"I never want to stop giving to the University of La Verne. I love being part of a university that is so committed to its mission. I am honored to be part of something extraordinary."