Maverick
A lifelong fascination with flying led Tyler Davies '07 to become part of one of the world's most elite fighter squadrons.
October 23, 2017
The F/A-18 Hornet is one of the most iconic jets in American aviation. A lightweight fighter with impressive maneuverability, it flies at almost twice the speed of sound and assists in both ground and air defense.
But the plane's chief claim to fame is not  combat — it is spectacle. For more than 30 years, the Hornet has been the ride of choice for the Blue Angels, the U.S. Navy's elite demonstration squad that has performed knuckle-biting precision acrobatics in front of more than 11 million spectators since its formation in 1946. One of those wide-eyed fans was Tyler Davies '07.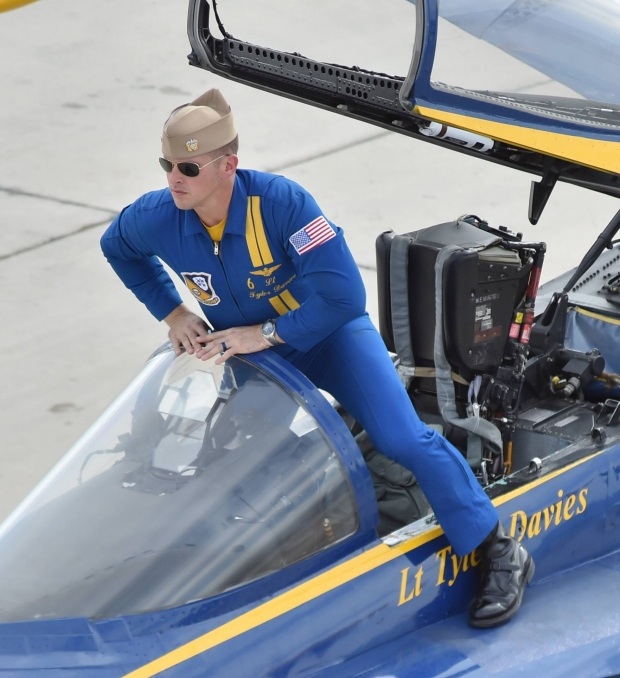 "The first time I saw the Angels was at an air show with my dad when I was 6 years old," he said. "From that point on, I knew I was hooked!"
That is an understatement. Davies enlisted in the Navy after high school and pursued the life of a pilot ferociously. Awarded Sailor of the Year in 2007. Primary flight training. Advanced flight training. Carrier landings. Thousands of tactical hours in a plane.
But it all paid off. In 2016, Davies became a member of the Blue Angels. He now flies opposing solo in jet six, thrilling a new generation with his skill behind the throttle.
"It was truly an amazing experience," he said of the first time he took one of the signature blue and gold jets into the skies. "It's a moment I'll never forget."
The Blue Angels is one of the most exclusive squadrons in the air today. The entire team, including support staff, is less than two dozen people, and only seven fly the Hornets themselves. Because of this, the application process is rigorous, with personal statements, flight records, and air qualifications making up just a small part of the overall selection process.
Fortunately, Davies was well prepared, thanks —in part— to the organizational management degree he received from the University of La Verne's campus at Naval Base Ventura County.
"I never expected to get a college degree," he said. "But being stationed there presented the opportunity, and I had to jump on it. The staff made me feel like the degree was not only possible, it was achievable. So I directed all my efforts toward completing the program."
Davies' schedule was packed, with a 7 a.m. to 4 p.m. shift leaving little free time before four hours of evening classes. "The days were long but very productive," he said. "The base was very proactive about sailors getting their education and looked to help in every way possible."
Dr. Mike Stadler, the La Verne academic advisor stationed at Naval Base Ventura County, worked closely with Davies.
"Dr. Stadler put together a plan that made sense,"
Davies said. "He truly showed he cared about my progress and genuinely wanted me to succeed."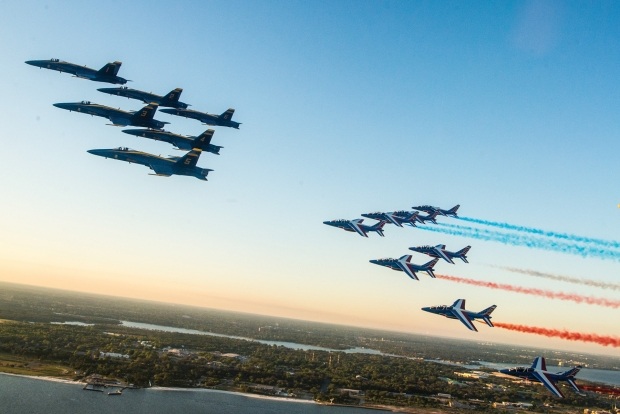 The two have kept in close contact even after graduation. Stadler recently received a care package from Davies filled with Blue Angels memorabilia.
"Tyler was the guy who came in the office like a ball of fire and lots of personality and said 'I want to go to school,'" he said. "I knew when I met him he was going to keep me on my game; he's the type of service member that makes me proud to do this job. Education is far more rewarding because of sailors like Lt. Davies."
This fall, the Angels transition from the Hornet to its younger brother, the Super Hornet. It is a change a long time coming, but one Davies is fully prepared for (he trained on the newer jet back in 2010). Just part of the natural evolution of the team, one he is proud to be a part of.
"I joined the Navy to travel and see the world," he said. "I've seen so many countries, cultures, and lifestyles throughout my time in the Navy. It taught me how to focus and direct my energy to achieve my goals in life."
Including his degree? Definitely.
"I was determined to get a degree," Davies added.
"It was a career track I hoped for but never thought possible. My experience with the University of La Verne absolutely opened the door for this opportunity to become a reality."