With nearly-empty pockets and tattered clothes, Winston Keh, set out to find food for his family.
Just two months earlier, his mother died and his father left, leaving the 13-year-old to care for his four young siblings on the streets of Manila in the Philippines. If they were lucky, he would bring home a can of sardines to get them through the day.
As Keh walked toward a market, an old man called him over and placed something into his hand.
"Here's 50 cents," the stranger whispered. "Go get something to eat."
The generosity was a blessing, but it also embarrassed Keh. He had not asked for the handout. How pathetic must he have looked for the man to notice him, he wondered. And then a revelation struck him that would define the rest of his life.
"Right then I said to myself, 'I'm not going to be a charity case. I'm not going to be holding my hand out for food. On that day, I became determined to stand on my own two feet."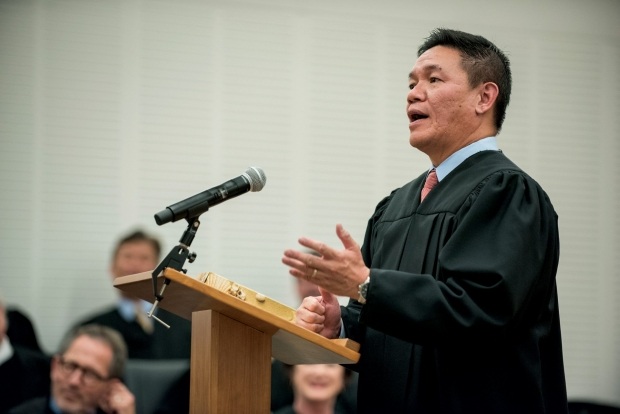 Forty-two years later, Keh stands tall.
Last May, California Gov. Jerry Brown appointed him to be a San Bernardino County  Superior Court judge, capping a remarkable ascent for the 1999 graduate of the University of La Verne College of Law. He now presides over a juvenile delinquency court, hearing criminal cases that range from vandalism to homicide.
Keh's path to the bench has been so arduous and improbable that a fellow judge once called him "the Rocky of our generation." He raised his siblings while juggling as many as three jobs. He immigrated to the United States as a teenager, went to college at night for 16 years to earn three degrees, and worked his way up the legal ladder from a mailroom.
Along the way, he discovered his passion for serving the community through the law.
"Winston is a man for whom family, community, and service are paramount," said Gilbert A. Holmes, dean emeritus of the University of La Verne College of Law. "His career and his latest position represent the best of what La Verne Law produces—people who care about people and dedicate their professional lives to advancing themselves, their families, and those around them."
Keh was born in the Philippines. His mother died of complications from kidney failure, leaving behind five children in a small apartment. Her husband disappeared immediately afterward. Keh, the eldest boy, became the head of the family. While other children played games, he looked for food, helped his brother and sisters with homework, and washed clothes.
"We used to do laundry by hand," he said "We used to clean the floors with soap and hot water and half coconut shells, if you can imagine that."
Such was his life for the better part of three years. Then, shortly after his 16th birthday, his father returned with a new wife and moved the family to Van Nuys, Calif.
Despite the culture shock, life was good for the first few months. The family was together, they had food and shelter, and they were living in the land of opportunity.
But as suddenly as he had reappeared, Keh's father left again to pursue business opportunities back in the Philippines. He sent money initially, but the money stopped coming during Keh's senior year of high school, leaving the children to fend for themselves again.
"Pretty soon the landlord was knocking at the door," Keh said.
Keh got a work permit and took jobs at a supermarket and a liquor store. His older sister became a bank teller. Together, they led the family like mother and father.
At 21, he married his high school sweetheart from the Philippines and brought her to the United States. For seven years, he balanced three jobs while attending community college at night. He became interested in the law while working toward an associate's degree. After he graduated, he took a job in the mailroom at a Los Angeles law firm.
A law firm partner urged him to become a paralegal, so he took classes after work and earned a bachelor's degree in about five years. Next, he enrolled at what was then the University of La Verne College of Law's Woodland Hills campus to get a law degree. He graduated with honors in four years and passed the bar exam on his first try.
I know what it's like to go to bed having no food in my stomach…I know what it's like having no money to pay rent. To have siblings counting on me to feed them. I know what it's like to have three jobs, and to work very hard just to make a decent living. And I know what working hard is all about.
Through the late 1990s and into the new millennium, he practiced as an attorney at a handful of law firms, primarily handling insurance litigation. He became partner at a large firm with offices in Los Angeles, San Francisco, and Sacramento.
The success did not bring him happiness. He had chosen law because he wanted to help people. Instead, he was poring over arcane legal jargon for large insurance companies.
He found his calling by happenstance.
Los Angeles County offered a free professional development class that he needed to maintain his law license, but as a condition of enrollment, he had to submit an application to be a volunteer temporary judge.
He thought the application was a technicality, but to his surprise, the county selected him and assigned him to hear traffic and small claims cases. The legal issues were relatively minor, but they had a big impact on the lives of those involved, and Keh immediately fell in love with the work.
"It was like night and day," he said. "This is what I was meant to do."
He served as a volunteer judge for eight years.
In 2014, he saw a newspaper ad announcing that San Bernardino County was hiring court commissioners, and he applied.
He worried that he lacked the political connections and Ivy League pedigree to get the job, but the county was so impressed by his legal acumen and life story that it hired him. He began in late 2015 and quickly wowed colleagues with his relentless work ethic. On some days, he finished his own docket and volunteered to take cases assigned to other judges. When a local high school needed a judge to preside over a criminal sentencing in a mock trial, Keh stepped up, even though he had never conducted such a hearing in his legal career.
"He learned how to do it just to volunteer and be with the students," fellow judge Lynn Poncin said. "And that's Winston. That's his work ethic."
After less than a year and a half on the job, the governor elevated Keh to fill a judgeship. In July, nearly 30 of the county's judges and dozens of other supporters filled a San Bernardino courtroom for Keh's swearing-in ceremony. Presiding judge Raymond Haight said it was the largest turnout he had ever seen.
Keh prepared a speech but abandoned it to instead speak from the heart.
"There are no words to describe how humble I am to stand here before my colleagues," he told his guests. "I'm ready to work even harder than I've ever worked before. It's my goal to be a credit to the judicial system, a credit to the bench, and a credit to the community."
Keh says that the people who come before him in court are often going through the lowest point in their lives. His past helps him empathize with those who life has treated unfairly. But that does not mean he is quick to let anyone off the hook for wrongdoing.
"I know what it's like to go to bed having no food in my stomach," he said. "I know what it's like having no money to pay rent. To have siblings counting on me to feed them. I know what it's like to have three jobs, and to work very hard just to make a decent living. And I know what working hard is all about. I've been there, done that, and I'm still doing it."