Well-Being Champions
Two alumni use their personal strengths and experiences to uniquely benefit the well-being of others.
June 6, 2022
A Legacy of Love and Basketball
Andre Bossieux '83, MHA '88, might not have known it at the time, but his natural strengths as a mentor would lead him to a career that drastically improved the lives of others. And it all started with a little love and basketball.
Bossieux attended the University of La Verne in 1979 eager to begin a career as a media professional in Los Angeles.Before he could get to the big city, however, he knew he'd have to work, so he applied for a part-time job at Leroy Boys Home, the La Verne child-care facility and group home now known as the Haynes Family of Programs. At Leroy, he worked in the recreation department and played basketball with program participants.
At 18, he was coaching teenagers at the boys home who were just shy of his age. Even though many of his students were in need of mental health services and other support, including housing and living necessities, Bossieux said he didn't see the youth any differently from himself.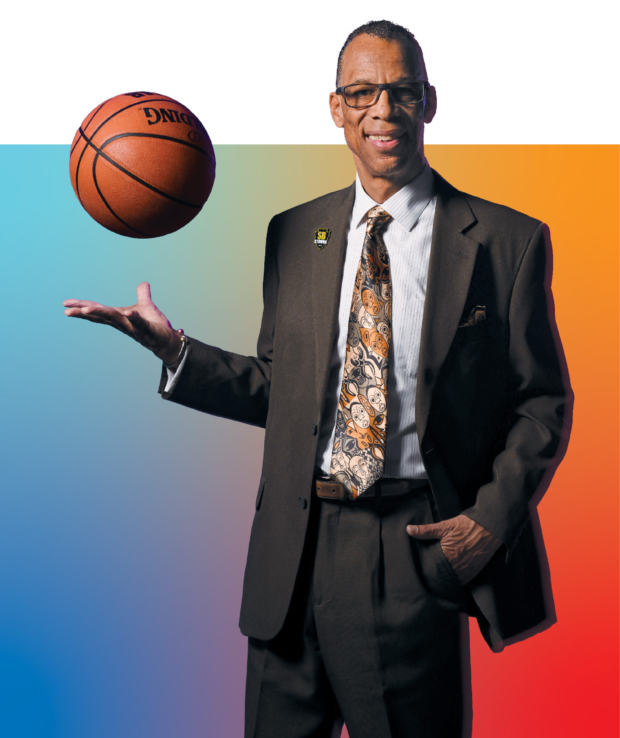 After a remarkable basketball career at the university, which landed him a spot in the University of La Verne Athletic Hall of Fame in 2011, and having built a thriving side business as a DJ to keep his love of entertainment media in his life, he knew his passion for serving youth outweighed his desires to move to the city. So, Bossieux stayed working at the care facility, feeling his work there was more than just a job that would pay the bills. It was a calling. He found it natural to incorporate his personal passions for sports, music, and even car mechanics, to connect with the youth.
"There were no color lines when they came in the gym," Bossieux reflected after recalling the abundant gang violence that preyed on his mentees. "I taught more life lessons about self-control, teamwork, and acceptance of others on the basketball court than I ever thought."
Bossieux worked at Leroy for 25 years and became a big brother to every mentee who found their way there. He quickly became a reliable resource for the youth and was promoted to a house parent while he lived in the center himself, pursuing his Master of Health Administration at the University of La Verne. Then in 2007, Bossieux seized an opportunity he couldn't resist.
He was entrusted to help plan San Bernardino County's Transition Age Youth Program, commonly known as TAY, under the county's Department of Behavioral Health. This nationally-recognized program provides people ages 16 to 25 who have mental health issues with access to public health services if they find themselves repeating unwanted habits after leaving their original care facility.
What makes him a Well-Being Champion? As he likes to say, "Once a TAY, always a TAY." He makes it his mission to maintain contact with each of the youths who have crossed his path, some of them now in their 50s. He also stays active with the university by helping his program participants apply to the Give Something Back Scholars program, which helps students who have faced adversity obtain a college education from the University of La Verne.
"It brings me so much joy to see my former mentees leading successful lives based on some of my teachings," Bossieux said.
As all basketball players know, you're only as good as your team. Bossieux has built a strong team of friends, colleagues, and mentees over the years, and it all began with just a little love and basketball.
Planting the Seed For Sustainable Beauty
Most people pick their career path in their mid-20s, but the decision to work for an ethical business came early to Margarita Gomez-Nadin '06, MBAX '16, when she vowed to pursue a career strongly connected to her family's farming history and ecological values.
The daughter of a migrant farm worker, she was introduced to farming and sustainability alongside her nine brothers and sisters in the suburbs of Lynwood, California, where they grew an abundance of fruits and vegetables in their backyard. Knowing the human side of agriculture work from her parents' experience, Gomez-Nadin sought to find a career that would allow her to both advocate for the environment and support the people who worked the land.
At the University of La Verne, she found the opportunity to forge that path. She took her first classes at the university's Burbank Campus. As a business administration undergraduate, she loved being exposed to the roots of ethical decision-making and lifelong learning.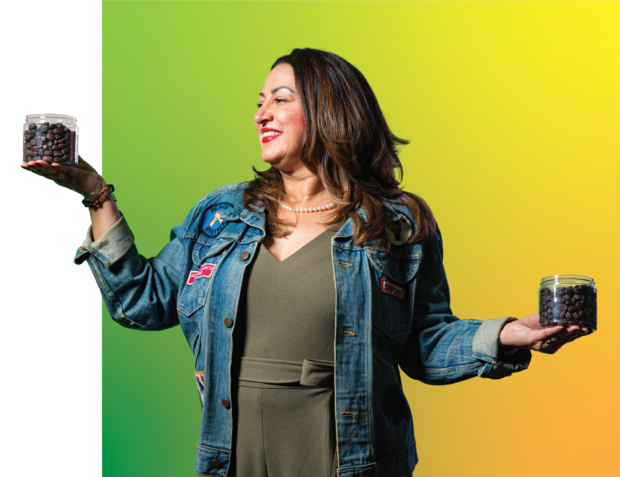 After earning her bachelor's degree, she went on to earn her Master of Business Administration on the La Verne Campus, with a dual concentration in operational management and leadership and supply chain management. After graduation, Gomez-Nadin connected with a work colleague and found an opportunity to join Vantage®, a global chemistry company that farms natural ingredients to be used in multiple industries. The company's initiative, From Farms to Formultions™, provides transparency and control of its agricultural supply chain through an end-to-end process—from growing its product on its farms in Arizona and Argentina, to creating products for customers.
Gomez-Nadin is now a regional account manager for Vantage® Personal Care in California and assists brands to discover and obtain the most beneficial, natural, and sustainable personal care ingredients for popular independent beauty market brands, known as "indie brands," within the beauty industry.
"The farms are vertically integrated and are completely transparent from seed to seed. They grow the seed, grow the tree, press the seed, and grow it again," she said.
The seed that lands Vantage® a seat at the table in the beauty sphere? Their global production of jojoba oil.
Jojoba oil is a liquid wax ester that is cultivated and pressed from a medium-sized, pit-like seed. It protects the skin against harsh radicals and promotes hair, skin, and nail health. This product grew popular in the 1970s as a vegan, cruelty-free replacement for oil harvested from whales, used at the time in most beauty products. This beauty industry change was in response to the era's popular "Save the Whales" environmental movement, a cause Gomez-Nadin was actively involved with in grade school. Gomez-Nadin was elated to learn how chemists developed a vegan formulation without using animal-derived ingredients.
How is Gomez-Nadin a well-being champion? She attributes her capacity to love others and the environment as an extension of her mother's love, whom she lost to Alzheimer's disease in 2020. She deliberately takes time to foster that trait in her work and personal life.
"Be a conscious consumer as you seek your journey into self-care," she said. "Notice what products you spend money on."
She also commits to speaking up for social justice issues, such as multiethnic and gender-fluid representation in beauty spaces, and even makes time to volunteer across different boards, as a past president of Beauty Industry West, as current chair and chief elected officer of the California Chapter of the Society of Cosmetic Chemists (SCC), and as the inaugural chair of the SCC Diversity of Inclusion Insights Committee at the national level.
Gomez-Nadin reflects daily on her parents' advice. Her father said, "don't feel spent, pay yourself first." Her mother said, "make time to give to others unconditionally." She carries on their memory by living out their words, which earns her spot as a well-being champion.